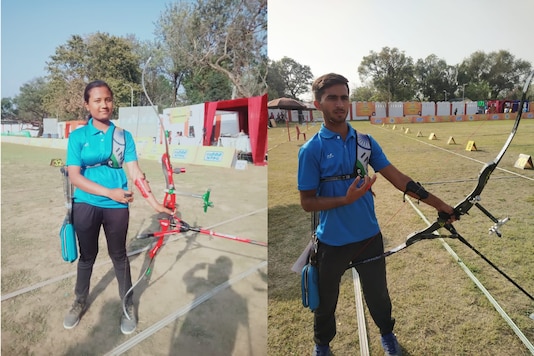 Sonia Thakur and Amit Kumar (Photo Credit: Twitter)
Madhya Pradesh's archers won two silver and one bronze at the Junior National Archery Championship, a day after they lost their equipment in New Delhi-Dehradun Shatabdi Express fire.
The Madhya Pradesh archery team bagged two silver medals and a bronze medal at the 41st Junior National Archery Championship in Dehradun on Sunday, a day after they managed to escape from a burning coach of the New Delhi-Dehradun Shatabdi Express.
The MP archers were travelling from Delhi to Dehradun when the coach C-5, in which they were travelling, caught fire on Saturday. The athletes were safe but lost their equipment and were provided with new kits and necessary equipment when they finally reached Dehradun.
"I told them (the archers) this (the train fire) was just one of the many challenges you will face in life and you must be strong to overcome it," MP sports minister Yashodhara Raje Scindia tweeted.
Sonia Thakur won silver in the girls' category recurve event, scoring 642 points, and Amit Kumar claimed bronze in the boys' category recurve event, scoring 665 points. In the recurve mixed team event, the duo of Sonia Thakur and Amit Kumar won silver.
The MP coach Ricchpal Singh said that the most difficult part was the equipment.
"There was only a night before the event. We got the equipment, but they were to be adjusted as it was new for the archers. The coaching staff and archers sat the whole night to tune and familiarise with the equipment," Ricchpal Singh was quoted as saying by TOI.
"We got very little sleep. It was a big responsibility on our shoulders to prove that MP archers can do wonders even in odd conditions. We did it," said 17-year-old Amit to TOI.
"It was tough as we slept little due to the fire incident nightmare. However, I was determined to prove that even in such conditions we can win medals," said 16-year-old Sonia to TOI.